Don't ignore the key function of a master bedroom in buyers' eyes – a place to unwind and recharge. But 70% would like to see a spot for a TV set. A master bedroom needs to be a peaceful place to relax and recharge, the reason a large amount of designers say attention needs to go into its look. Additionally they say an uninviting master retreat can negatively affect resale value, so there's more at stake in bedroom design than a restful sleep.
"One thing to keep in mind is that form follows function, meaning the visual appearance of your bedroom comes second to bedroom functionality – especially since roughly one-third of your life is spent in your bedroom," Michael DiMartino, senior vice president of installations at Power Home Remodeling in Chester, Pa.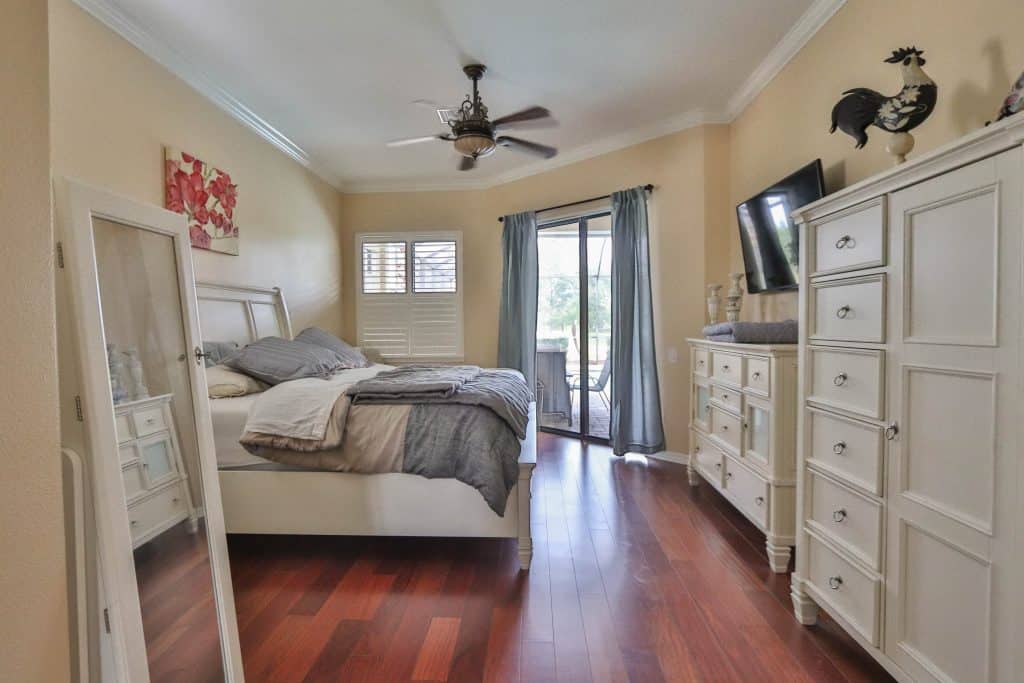 Staging the Master Bedroom: Do's and Don'ts
Common bedroom design mistakes
Too much empty space
Spacious bedrooms generally are a plus, but don't go overboard. "Between a bed, nightstands, one or two dressers, and maybe an armchair, there's only so much furniture that goes in a bedroom," says Nathan Outlaw, president of Onvico, a design and construction company in Thomasville, Ga. A room that is too large can seem to be empty and uninviting.
Forgetting a TV
Most people would like a television in the master bedroom, and it's recommended that you at least stage one if selling. "We find about 70% of our clients want a TV in the bedroom," says Thomas B. Wagner, a residential architect in Haddonfield, N.J. Jennifer Okhovat, a real state pro with Compass in Los Angeles. "I'm selling a home right now with two guest bedrooms, and one of the biggest objections I'm getting from buyers is that there is nowhere to put a TV," she says.
Disregarding closet size
"The design of closet space is quite important," says Amy Berglund with RE/MAX Professionals in Colorado. "It's a big turnoff to show a closet that is crammed with clothes and shoeboxes because the closet hasn't been thoughtfully designed with proper shelving, baskets, etc." Real estate and staging pros advise ensuring that there is enough hanging space for longer clothing pieces. Also, make certain the shelving isn't so high that it isn't accessible. Occasionally, you might need to incorporate a ladder to the design or show a stepstool.
A Few of Our Recent Sales
Ready to find out the current market value of your home?

Have a questions or concern? Nick, Cindy & Nicholas Davis with RE/MAX Premier Group are here to assist you with all your Real Estate Needs. We are always available at 813-300-7116 to answer your questions or you can simply click here and we will be in touch with you shortly.
Ways Our Family Can Help Your Family