We have all the Active homes for sale in Largo Florida in one easy place for you. You will see all the homes in Largo that are available to purchase. You can modify your search, and you can create new searches and save them for later viewing.
Unlike other sites that you search and find homes that are already under contract to be. Our home finder will only show active homes that are currently on the market to be sold. No more frustration of searching for homes, calling every agent, just to find out a home is no longer available.
We hope you enjoy this feature that we have set up. If you need any assistance Nick & Cindy Davis are just a phone call or email away. You can always reach us at 813-300-7116 or simply click here to contact us directly. One of us will be back in touch with you immediately.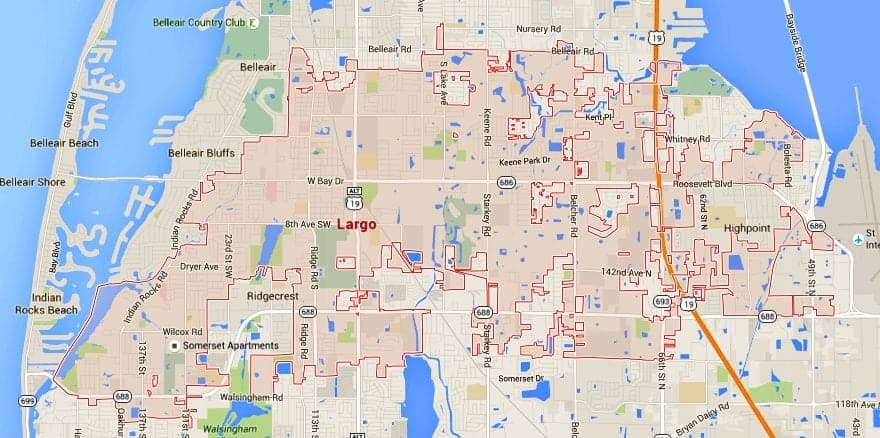 Largo Florida Homes for sale
Largo is the third largest city in Pinellas County, Florida, US, and is part of the Tampa Bay Area. Centrally located, it is the crossroads of the county[citation needed]. As of the 2010 census, the city had a population of 77,648,[5] up from 69,371 at the 2000 census. Largo was first incorporated in 1905. In 1913, it became the first municipality in Pinellas County to adopt a council-manager government.
It switched back and forth from "town" to "city" a few times, and became a city again in 1974. It was an exporter of agricultural products until the 1960s when the influx of people began to transform it into a bedroom community. From 1905 to 2010, Largo grew in area from 9/16ths of a square mile to about 19 square miles (48 km2), and in population from about 300 people to more than 70,000. Largo began as a rural farming community and became the third largest city in Florida's most densely populated county.
The Recreation, Parks and Arts Department's role encompasses recreational, cultural, environmental and athletic programs. The department maintains community parks, playgrounds and greenways, and offers educational and entertainment events and celebrations. The Recreation, Parks and Arts Department groups fourteen programs into four categories: Administration, Recreation, Parks, and Cultural Arts.[24] Administration provides budgeting and administrative support and coordinates special events and marketing. Recreation consists of all recreation facilities and active recreation programming. Parks coordinates maintenance and improvement of city parks, facility landscaping, medians and greenways.
Cultural Arts manages and coordinates cultural performances and educational activities at the Largo Cultural Center and Historic Largo.
All Largo Homes For Sale

List View

Map View

Grid View
See all Real estate matching your search.
(all data current as of 9/30/2023)
Listing information deemed reliable but not guaranteed. Read full disclaimer.