We have all the Active homes in the Westchase, Tampa Florida in one easy place for you. You will see all the homes in Westchase that are available to purchase. You can modify your search, and you can create new searches and save them for later viewing.
Unlike other sites that you search and find homes that are already under contract to be. Our home finder will only show active homes that are currently on the market to be sold. No more frustration of searching for homes, calling every agent, just to find out a home is no longer available. We hope you enjoy this feature that we have set up.
If you need any assistance Nick & Cindy Davis are just a phone call or email away. You can always reach us at 813-300-7116 or simply click here to contact us directly. One of us will be back in touch with you immediately.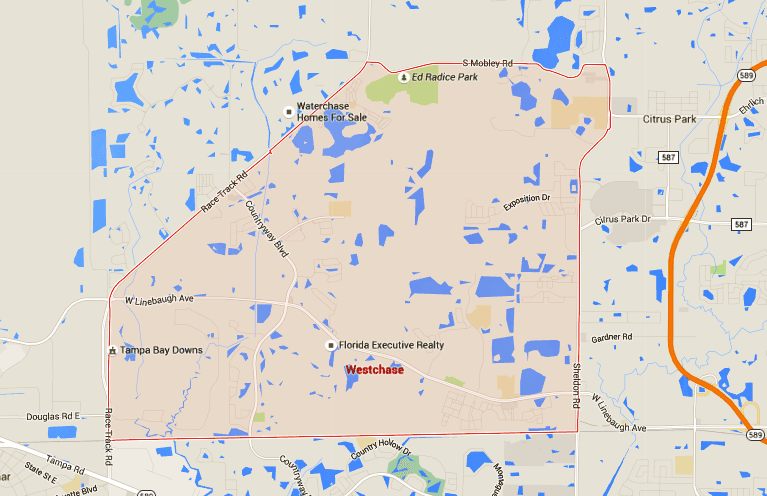 Aerial Tour
Tampa is a city in and the county seat of Hillsborough County, Florida, United States.[11] It is located on the west coast of Florida on Tampa Bay, near the Gulf of Mexico, and is part of the Tampa Bay Metropolitan Area. The city had a population of 346,037 in 2011.[12][13]
The current location of Tampa was once inhabited by indigenous peoples of the Safety Harbor culture most notably the Tocobaga and the Pohoy, who lived along the shores of Tampa Bay. The area was explored by Spanish explorers in the 16th century, resulting in violent conflicts and the introduction of European diseases, which wiped out the original native cultures. Although Spain claimed Florida as part of New Spain, it did not found a colony in the Tampa area, and there were no permanent American or European settlements within today's city limits until after the United States acquired Florida from Spain in 1819.
Finance, retail, healthcare, insurance, shipping by air and sea, national defense, professional sports, tourism, and real estate all play a vital role in the area's economy.  Hillsborough County alone has an estimated 740,000 employees, a figure which is projected to increase to 922,000 by 2015.[102] Several large corporations, such as banks and telecommunications companies, maintain regional offices in Tampa.
Several Fortune 1000 companies are headquartered in the metropolitan area,[103] including OSI Restaurant
Westchase Communities