We have all the Active homes for sale in Tarpon Springs Florida in one easy place for you. You will only see all active homes available to purchase in Tarpon Springs Florida. You can modify your search, and you can create new searches and save them for later viewing.
Unlike other sites that you search and find homes that are already under contract to be. Our home finder will only show active homes that are currently on the market to be sold. No more frustration of searching for homes, calling every agent, just to find out a home is no longer available.
We hope you enjoy this feature that we have set up. If you need any assistance Nick & Cindy Davis are just a phone call or email away. You can always reach us at 813-300-7116 or simply click here to contact us directly. One of us will be back in touch with you immediately.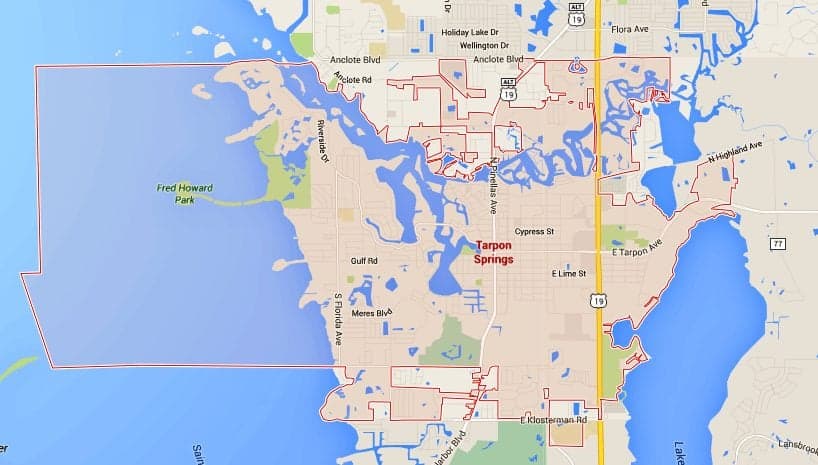 Tarpon Springs Florida
Tarpon Springs is a city in Pinellas County, Florida, United States. The population was 23,484 at the 2010 census.[4] Tarpon Springs has the highest percentage of Greek Americans of any city in the US.[5] Downtown Tarpon has long been a focal point and is currently undergoing beautification.[6] Tarpon Springs' climate borders on humid subtropical and tropical savanna, with warm temperatures year-round, although winters nights are cool. Annual precipitation is around 50 inches (1,300 mm).
Winters are warm, with daytime highs of 72 °F (22 °C) to 80 °F (27 °C), and nightly lows of 45 °F (7 °C) to 60 °F (16 °C). Freezing temperatures (32 °F (0 °C) or lower) occur on average 5-6 nights annually, while snowfall is extremely rare; there was accumulation in 1977 and 1989, while the years 1899, 1954, 1958, 1973, 2001, 2006, 2010, and 2014 either saw light snow mixed with rain, or flurries. The record low temperature of 19 °F (−7 °C) was observed on four different dates: December 1, 1962, December 13, 1962, December 14, 1962, and January 13, 1985. Summers are hot and very humid, causing frequent afternoon thunderstorms that can occasionally produce hail, and, even tornadoes or waterspouts off the Gulf of Mexico.
Daytime temperatures usually range from 88 °F (31 °C) to 95 °F (35 °C), with temperatures over 100 °F (38 °C) very rare. The record high temperature of 102 °F (39 °C) was observed on July 10, 1997. Spring and fall are generally warm
All Homes For Sale in Tarpon Springs
List View

Map View

Grid View
See all Zip Code All Homes For Sale Tarpon Springs.
(all data current as of 7/3/2020)
Listing information deemed reliable but not guaranteed. Read full disclaimer.
All Homes For Sale In Pinellas County
We're sorry, but it seems that we're having some problems loading properties from our database. Please check back soon.