We have all the Active homes for sale in Redington Beach in Pinellas County FL in one easy place for you. You will see all homes in Redington Beach that are available to purchase. You can modify your search, and you can create new searches and save them for later viewing.
Unlike other sites that you search and find homes that are already under contract to be. Our home finder will only show active homes that are currently on the market to be sold. No more frustration of searching for homes, calling every agent, just to find out a home is no longer available. We hope you enjoy this feature that we have set up.
If you need any assistance Nick & Cindy Davis are just a phone call or email away. You can always reach us at 813-300-7116 or simply click here to contact us directly. One of us will be back in touch with you immediately.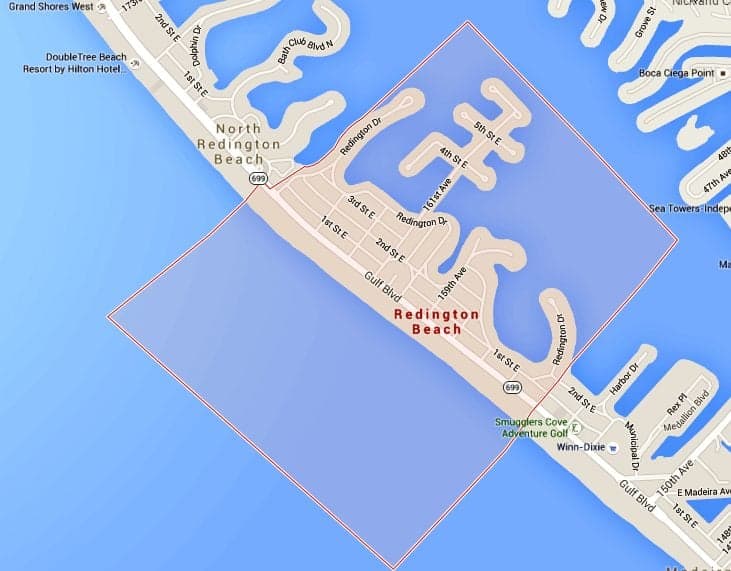 Redington Beach is Located in Pinellas County FL Florida
Redington Beach is a town in Pinellas County, Florida, United States. The population was 1,427 at the 2010 census.[3]
As of the census[1] of 2000, there were 1,539 people, 724 households, and 464 families residing in the town. The population density was 4,228.5 inhabitants per square mile (1,650.6/km²). There were 987 housing units at an average density of 2,711.8 per square mile (1,058.6/km²). The racial makeup of the town was 97.14% White, 0.45% African American, 0.13% Native American, 1.43% Asian, and 0.84% from two or more races. Hispanic or Latino of any race were 2.92% of the population.
There were 724 households out of which 16.9% had children under the age of 18 living with them, 54.3% were married couples living together, 7.7% had a female householder with no husband present, and 35.9% were non-families. 26.7% of all households were made up of individuals and 11.0% had someone living alone who was 65 years of age or older. The average household size was 2.13 and the average family size was 2.54.
In the town the population was spread out with 14.0% under the age of 18, 3.5% from 18 to 24, 23.3% from 25 to 44, 35.3% from 45 to 64, and 24.0% who were 65 years of age or older. The median age was 50 years. For every 100 females there were 86.3 males. For every 100 females age 18 and over, there were 84.1 males.
The median income for a household in the town was $54,830, and the median income for a family was $60,795. Males had a median income of $45,921 versus $27,500 for females. The per capita income for the town was $38,265. About 4.1% of families and 5.7% of the population were below the poverty line, including 5.1% of those under age 18 and 8.7% of those age 65 or over.
To Schedule your own private showing Contact Nick & Cindy Davis with RE/MAX Premier Group at 813-300-7116 or simply click the schedule a showing button on the home or homes you would like to see.
All Homes For Sale Redington Beach
We're sorry, but it seems that we're having some problems loading properties from our database. Please check back soon.
All Homes For Sale In Pinellas County
List View

Map View

Grid View
See all Pinellas County-Homes For Sale.
(all data current as of 3/22/2019)
Listing information deemed reliable but not guaranteed. Read full disclaimer.