Selling a house can be stressful.  Making the decision, preparing the house for sale, keeping it clean, waiting for a buyer, dealing with offers, and advancing to the closing table – all of these steps can involve discomfort.  This is a huge financial transaction with many emotional aspects.  But you can get it done – and it may even be easier that you anticipate.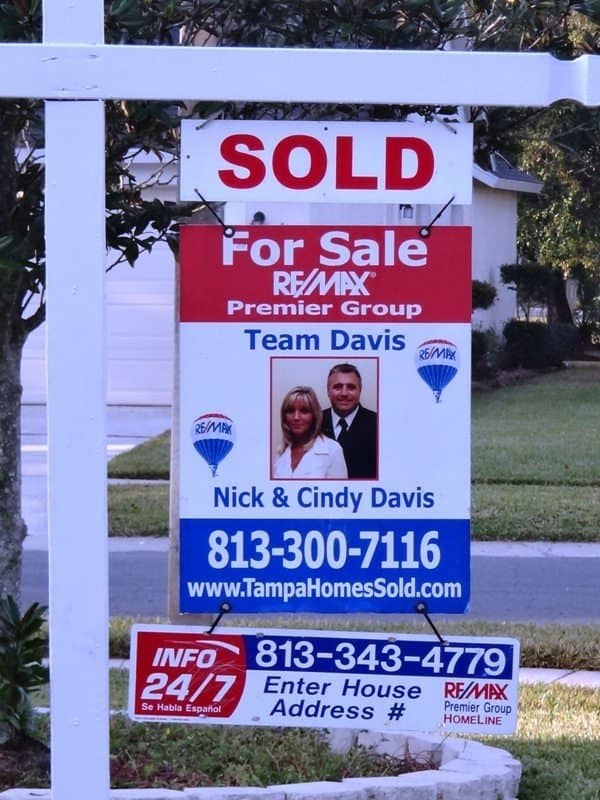 One thing to keep in mind is that you're not alone.  Nick & Cindy Davis are experienced, professional real estate agents who have assisted over 400 families in selling their homes in and around the Tampa Bay Area. We will will guide you through the process, help resolve any issues that come up, and ensure that your home sells for the optimal price, with the most favorable terms and in a timely manner.  
Seller FAQ'S
How Much is My Home Worth?
Answer:
The actual value of a property will depend on what the current market is willing to pay. There are numerous ways we're able to go about determining the value of your house.
One method we offer to our clients at no cost is to complete a Comparative Market Analysis (CMA). We'll use our knowledge and experience, along with data from recent sales in your neighborhood and similar homes to provide you a range of what your house could sell for in today's market.
According to that information, we'll develop a strategy based upon your family's needs. One other method that some of our client's prefer to take is to hire an appraiser just prior to listing the residence. You'll find pros and cons to this we'd love the opportunity to consult with you in person.
Should I trust Online Home Valuation Tools Like Zestimate?
Answer:
There's plenty of real estate professionals that put down sites like Zillow. We actually like a few of the resources Zillow has, however, with regards to their Zestimate tool which happens to be their home value tool on a property, things can be very off.
An important thing to understand is a Zestimate is just a combination of algorithms developed by Zillow to figure out the price of your property determined by your neighborhood, square footage, previous sales history, bedrooms, baths, etc.
The most significant problem an automated tool like Zestimate has is it can't give consideration to any upgrades or any deteriorating factors on the level a person can.
Spent $50,000 in upgrades in your kitchen? Zestimate doesn't realize that.
Roof contains a hole in it or A/C is on it's last leg? Zestimate doesn't know that.
Zestimate is a fun idea theoretically, but be skeptical of automated online home value tools. Sometimes it's nice to utilize them to get a starting point, but more often than not it's imperative that you hire a professional like our team to look at and evaluate your property so you're able to set a more realistic expectation on the value of your house.
You don't want to end up in a situation where you are over-pricing or under-pricing your home as a result of Zestimate considering that the effects will be devastating.
What is Your Commission Rate?
Answer:
All real estate commissions are negotiable however, not all real estate agents are created equal.
We don't disclose our commission rates online as this really is something that we will discuss face-to-face based on your needs and the services we provide you with.
Other Agents that discount themselves are often not the type of individuals who will aggressively command a higher price for the value of your property when they are so quick to cheapen their own personal value.
Don't sell yourself short, don't accept less, and don't make the mistake of leaving money on the table by taking shortcuts.
We take great pride in knowing we provide you with more in service than any other real estate team in the area.
Reach out to us, and we'll schedule a no-pressure consultation to find out if we can earn your business.
How Frequently Does Your Team Communicate With Your Sellers?
Answer:
This industry lives and dies by communication. It is how we market ourselves, our sellers properties, and how we handle transactions to get them to a successful closing.
We take our level of communication with our clients seriously, and it's extremely important to us to keep you readily updated and also be there to answer the questions you have. (None of us likes working with someone who never answers their phone or returns calls)
One of the first things we do as we consult with you is determine your preferred way of communication. We've had clients who preferred phone calls, emails, as well as clients that have worked with us 99% through text and even Facebook messenger!
Regardless of the application, we are prepared to communicate in a form that works right for you. We will keep you updated even when there's not big updates. Sometimes it may be every couple of days, and in slower parts of the transaction it could be a weekly update.
According to the stage, we're going to set expectations to ensure you never feel as if you are alone and you are always satisfied!
How Do You Plan on Marketing My Home?
Answer:
This is one of our favorite questions to answer because we are very enthusiastic about marketing. You'll find throughout our site, very detailed strategies into the way we make our client's homes get noticed, but for the sake of this question, we'll make this answer short.
Like other agents, your listing is going to be placed on the Multiple Listing Service, however we don't just set it and forget it.
Every one of our clients home's receive a Free High Definition Video Tour and Professional Photography.
We have several groups we are in charge of where we're able to pre-market our listings before they go live on the market to produce anticipation.
Additionally we run extensive advertising campaigns using social media platforms like Facebook, and utilizing our powerful website to reach 1000s of targeted buyers in the local area in a short time.
We discuss if our clients are interested in open houses and we also get in touch with local neighbors through door-knocking to find out if they know of any interested parties that may like to move into the neighborhood.
Listed above is simply a small sample of the actions we take on behalf of our clients as we are constantly adapting and staying proactive until our clients homes are sold.
What's the Best Time to Put My Home on the Market?
Answer:
In other markets throughout the United States there can be better times to list a property mainly as a result of seasonal weather changes. The interesting aspect of the Tampa Bay Area is the time of year you list your home doesn't have as big of an impact.
Shown below is the total of residential homes for sale by the month in Hillsborough County in 2016.
Seller FAQS-Data
Because we maintain a pretty consistent tropical weather environment here, and there are millions of people that visit our area throughout the year, we advise our clients to sell their homes at a time that's most convenient for them.
Should I Sell Before I Buy Another Homes?
Answer:
This is going to be based upon your specific situation. The best place to get started is with a mortgage lender. You need to ensure if you intend on buying before your house sells or even closing before your home closes that your lender will allow you to carry two mortgages simultaneously.
Some people will need to put in an offer on a home contingent upon the sell of their home. The offer is stronger the closer the home their selling is to closing however it is not as a strong as an offer without any strings attached.
We are happy to sit down with you and assess your situation to figure out the perfect solution based on the needs you have.
If you'd like to schedule a consultation over coffee, contact us!
What Steps Should I Take to Prepare My Home For Sale?
Answer:
A properly prepared home can often mean the difference in a property selling for thousands of dollars more or creating the atmosphere to have a bidding war. Rest assured not all your competition thinks they have to prepare. Use that to your benefit!
Here are a few recommended easy steps that won't cost a fortune:
1. Keep Clutter To A Minimum - If there's one step that's more significant than all the others, it's minimizing your clutter in your home. If you live there, quite often it can end up being a challenge but it's an essential component to helping people envision a home as their own. You want buyers to have this feeling so you are likely to get higher and better offers.
2. Eliminate Odors And Make Your Home Smell Nice - We're human beings and quite often we grow accustomed to smells that we don't even notice anymore. Get an outside opinion, more specifically your realtors (The Tampa Bay Real Estate Warriors). We will be honest with you because we would like to enable you to succeed. If you have carpet, according to condition it may need to be cleaned professionally or possibly replaced. Investing in some air fresheners will help as well and if you really want to go the extra mile, baking some cookies right before a showing can sometimes seal the deal.
3. Keep The Temperature Nice - We've gone in 100s of homes, both occupied and vacant where our clients had to rush out the door given that the thermostat was turned up. We live in Florida folks, and not using your A/C for most parts of the years ought to be a crime. Especially when you're trying to sell your home. Not only will a hot, stifling house make people want to run out the door, it also has a tendency to bring out the worst in odors.
4. Get Some Paint - All homes get wear and tear and when customers are viewing your home, chipped paint is usually an eye sore. Also think about the colors you've selected in your house. There's a reason why many flippers and home renovators opt for a more neutral palette. A neutral palette like light grays, whites, and even some tan like colors are least likely to offend and turn off people from buying your home. Marketing a home with pink bathrooms and vomit green rooms is a little more risque - Don't do it!
5. Landscaping - Don't just focus on the inside of your house… curb appeal is the reason why some individuals will even set foot in a home. If you have a yard, you don't have to spend an arm and a leg on sprucing it up. Freshly mowed grass, some flowers, or even a little bit of well placed mulch can certainly make a big difference!
***Bonus Tip - Staging*** - We consider staging to be a bonus tip because it's not always worth the cost. Depending on the price range of your home, the neighborhood, as well as other conditions will factor in whether we suggest you stage your home. The benefit of a well staged home is it could help your home sell faster, look better, sell for more, and help potential buyers envision how furniture would fit in certain spaces.
What Should I Disclose to Potential Buyers?
Answer:
As reported by Florida Real Estate Law, there was a case in the Florida Supreme Court "Johnson vs Davis" where it had been determined that the seller of a home must disclose facts materially affecting the value of the property which are not readily observable and are not known to the buyer.
The disclosure can be done in writing or verbally - however… any clients we work with we require to complete a sellers disclosure.
The sellers disclosure is an effective resource for a seller since there are 3 choices to the majority of the questions - Yes, No, and Don't Know.
We advise to clients to answer the questions honestly on a sellers disclosure so that you can minimize chances of a lawsuit or potential litigation.
Examples of the big categories on the seller's disclosure include:
Structure; Systems; and Appliances
Termites; Other Wood Destroying Organisms; Pests
Water Intrusion; Drainage; Flooding
Plumbing
Pools; Hot Tubs; Spas
Sinkholes
Deed/Homeowners' Association Restrictions; Boundaries; Access Roads
Environmental
Governmental
And Other Matters (Additional Comments)
What Happens If I'm Not Satisfied and Want to Cancel the Contract?
Answer:
Should this be the situation, you're most likely not really working with The Tampa Bay Real Estate Warriors and more than likely you're working together with some sort of imposters…
But on a serious note… we really want our clients to be happy!!! Every time we produce a listing agreement together with clients, we review the cancellation clause mentioned in the contract.
We've been fortunate enough in our careers that no seller has ever cancelled on us, however, if this was ever the case, we don't believe in burning bridges and as long as there's no foul play, we are going to try everything in our capacity to execute your wishes.
Who has to Make Repairs If Any Issues Show Up on a Home Inspection Report?
Answer:
This will completely be based upon what is written in the contract and addenda. The short answer is more often than not it's going to be negotiable.
Most residential contracts in Florida today are written on the "AS-IS" Residential Contact For Purchase And Sale. There's a great deal of confusion that accompanies this contract simply as a result of name.
"AS-IS" typically does not imply a buyer is required to accept your property AS-IS without having room for negotiations on repairs. However, simply because issues come up on an inspection report doesn't mean a buyer will ask for the repairs or a seller credit.
There are many repairs that could be required in order to make the home insurable for financing. The responsibility is going to be contingent on the language in the contract.
Working with a knowledgeable licensed realtor by your side will undoubtedly be essential to protecting yourself from misunderstandings with regards to party responsibilities. When we represent our sellers, we will be there to answer questions and negotiate for them.
What Does an Appraisal Mean?
Answer:
An appraisal is a report put together by a licensed appraiser that is an impartial estimate on the fair market value of a home. Most loans require appraisals and are ordered by the lender during the contract period.
Being a seller you could find that even though you may have a contract with an given price, there typically is a contingency worded in the contract or an addendum which causes the agreement contingent upon the property appraising at value.
We know that's a mouthful, however a simpler manner of putting this is in the event your home doesn't appraise, you could find yourself back to negotiating with the buyers.
In many cases, there's one of 4 outcomes that occur:
The Seller Makes A Concession And Lowers The Price.
The Buyer Comes Up With The Difference Out Of Pocket.
The Buyer Finds A New Lender And/Or Orders A New Appraisal.
The Transaction Is Cancelled.
If you select Team Davis as your realtors, we gotcha covered! There's many hurdles that can take place in real estate, each scenario with it's own unique challenges. Our goal is always to problem-solve and to come up with a desirable outcome where you walk away from the closing table knowing that you were in good hands.
When Should I Turn Off Utilities?
Answer:
Technically as soon as the buyer closes on the property and the title is transferred into their name, the seller no longer is obligated to maintain utilities.
However in the the real world, all of this really is determined by the communication between the buying and selling parties and their agents.
In the event the buyers choose to do the final walk-through of the property the day of closing, the utilities can't be off unless otherwise agreed upon.
So a good rule is for the sellers to make contact with their utilities and let them know they will be selling the property and will not be the owner after "X" time - "We'd recommend letting them know a time a couple of hours following the closing."
Normally most buyers will likely have been advised by their agents to call the utility companies and have it all set to transfer in their name for the day they take possession.
If you're really worried about the hour it transfers, it's also possible to request the utilities to do a final reading at a certain time and see if they will honor it.
Why You Want Team Davis Selling Your Home
If you want Nick & Cindy Davis to Assist you in selling your home. Just fill out information below and we will be in touch with you shortly. OIr you can always reach us at 813-300-7116.