Most of us have heard the old proverb: "March comes in like a lion and goes out like a lamb." It's actually a perfect description of this month's temperamental weather conditions. There could possibly be a chill in the air now, but warmer days will soon be here. Spring into your March home maintenance with our 5 homeowner "to-dos" for March.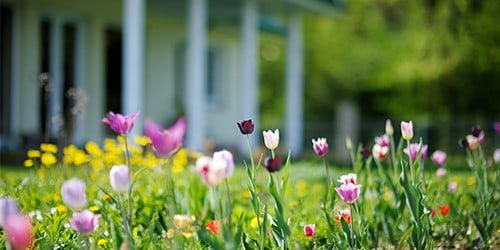 Spring Into Your March Home Maintenance
1. Clean the Patio Furniture
In the event your outdoor furniture has spent the winter in the elements, it's quite possibly looking grimy. Scrub down your chairs and tables with soap and water before you begin using them this spring. No one wants to sit on a dirty cushion. Throw your washable cushions or cushion covers into the laundry. Whenever the cushions are worn or damaged, now is the best time to replace them.
2. Tune-up the Garden Tools
This includes your lawnmower. Don't start the summer with dull blades. Make time this weekend to take your mower and clippers in for a good sharpening and tune-up.
3. Plant a Tree
Spring and fall are the perfect times to plant a tree. Cool temps and wet weather are perfect conditions for root systems to get established. Ask your local nursery which species will do best in your microclimate. Also, get planting instructions. How deep should your planting hole be, and how wide? If your area is at risk of late frost, you might need to put this task off another month. Don't risk freezing your newly planted sapling. Remember, plant your tree a safe distance from your home's exterior to avoid it's root system from expanding beneath your home's foundation.
4. Check the Foundation
Look for indications of cracks or movement in concrete slabs. This includes flaking or chipped concrete. Remember, exterior slabs should drain away from your home's foundation. Be on the lookout for pools of water near your home's foundation that won't drain properly. Moisture close to the foundation of your home can cause the soil to expand. Expanding soil can put pressure on your home's foundation and could cause your home to shift over time.
5. Clean Out the Gutters
Clear debris from gutters before spring rains and melting snow overload them. Your gutter system should drain water safely away from the foundation of your home. All too often we see downspouts directing water into pools that sit near a home's foundation. Hire a professional to clean your gutters depending on how comfortable you are on a ladder. If you feel capable of tackling the task, read our article Clean Your Gutters Like a Boss at homewarranty.com before heading up your ladder.
Take advantage of the fickle weather this month. With our 5 Homeowner To-Dos for March, you can set aside a weekend to busy yourself with these important tasks. However, since this is March we're referring to, you may find yourself stuck inside during a weekend rain storm. If so, we offer our rainy weekend "to-do" list: Couch, movie, popcorn…repeat.
Have a questions or concern? Nick, Cindy & Nicholas Davis with RE/MAX Premier Group are here to assist you with all your Real Estate Needs. We are always available at 813-300-7116 to answer your questions or you can simply click here and we will be in touch with you shortly.

Need to get started with your mortgage process? You can contact Kyle Edwards with Iberia Bank at 813-495-5131, or simply click here to start your online application.
Ways Our Family Can Help Your Family