Everyone wishes for a better life, but not everyone is willing to work for a better life. You can wish all you like but if you are not willing to work for those wishes, you will never see them materialize.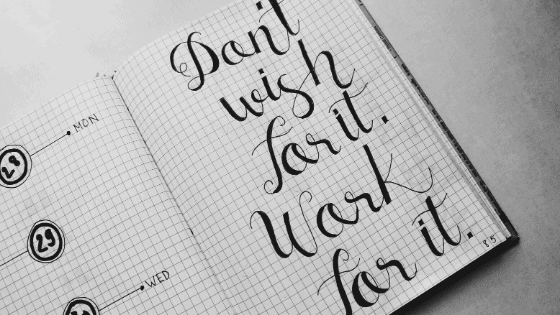 Don't Wish for It, Work for It!
Wishes without work are worthless. Don't wish that you had fewer problems. Work until your problems disappear.  Don't wish for an easier life. Work on your life until it gets easier. Work on yourself until you are happy with the results. Ask yourself; what can I do better? Where can I improve? What can I control? How can I take my life to the next level?
If you want it, don't wish for it, just do it!  Step up your game mentally, emotionally, and physically!
Something to Think About
Dreams – start with decisions that are follow up by action. Dig in – know that you have everything you need to succeed already within you. It's time to make those dreams start coming to fruition!
Weekly Activity
Is there something you have been wishing for? This week, no more wishing for it. What are three top steps to making them a reality?
Words of Wisdom
The key is not to prioritize what's on your schedule, but to schedule your priorities. – Stephen Covey
Most people chase success at work, thinking that will make them happy. The truth is that happiness at work will make you successful. -Alexander Kjerulf
Never get so busy making a living that you forget to make a life. – Dolly Parton
To have what you have never had, you have to do what you have never done. – Roy T. Bennett
Success is the doing, not the getting; in the trying, not the triumph. Success is a personal standard, reaching for the highest that is in us, becoming all that we can be. If we do our best, we are a success. – Zig Ziglar
Have a questions or concern? Nick, Cindy & Nicholas Davis with RE/MAX Premier Group are here to assist you with all your Real Estate Needs. We are always available at 813-300-7116 to answer your questions or you can simply click here and we will be in touch with you shortly.

Need to get started with your mortgage process? You can contact Kyle Edwards with Iberia Bank at 813-495-5131, or simply click here to start your online application.
Ways Our Family Can Help Your Family