As fall arrives, leaves turn and colder temperatures occur, the bounty of bright colors in your spring and summer gardens have faded. Garden beds that popped with colors of purple, pink, orange and yellow flowers and seasonal fruits and veggies. Currently the beds are covered in mulch, winterized for the approaching winter.
Wait! Only because the common gardening season winds down doesn't mean you still can't change things up in the backyard. RE/MAX recommends that you go to your local nursery or garden store to look around for regional cold-hardy plants that catch the eye with color! Below are a few of our seasonal favorites to use for winter.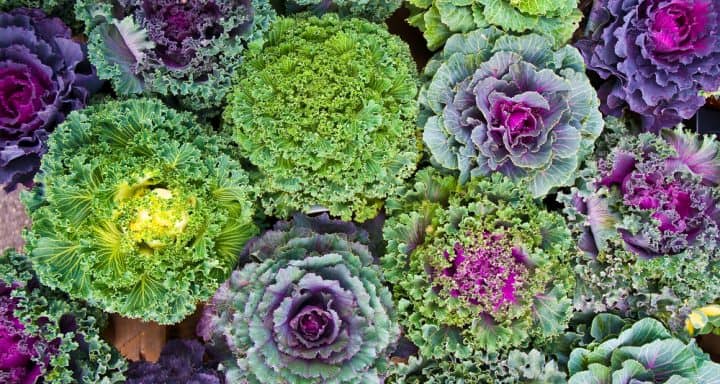 Cold-Hardy Plants Add Color to Winter Gardens
Kale and Chard
Kale and chard plants aren't only tasty, but quite beautiful with shades of green and reds – and bonus, they are awesome for you! Try to find varieties which include purple coloration for even more of a pop! Kale keeps growing up until the temperature drops below 20 degrees Fahrenheit. Some gardeners debate that the leaves are crisp and taste much better with a touch of frost!
Hosta
The wonderful thing about hosta is that they require little attention and are available in a wide selection of colors. Just a few of the varieties include 'blue angel', 'big daddy', 'halcyon', and 'Gold Standard'. Though they bloom in the summer, their brightly colored leaves remain vivid throughout the winter season. While they are low-maintenance, hostas prefer lots of water with well-drained soil. Regarding sunlight, hostas prefer full-sun, but tend to tolerate shadier locations.
Camellias
If you're searching for a beautiful plant that will survive virtually any cold condition, search no further because camellias are your flower. In northern climates, camellias bloom in October and can continue through December. Their white, red or pink petals bloom in a number of different ways, which makes them an amazing unique addition to your garden. This versatile flower can be trained to grow into a shrub or into more of a tree-like shape. Preferring acidic, well-drained soil, these winter beauties do best in a semi-shaded area.
Pansies
For some lower-growing color, consider pansies! Blooming year-round, pansies come in virtually every color imaginable and can be arranged to produce colorful groundcover art. Pansies prefer moist, well-drained soil and thrive in colder temperatures. Farmer's Alamanac mentions that the reason pansies die is because they aren't being watered enough, so shower them with a great amount of love and attention and they'll return the favor in the form of a colorful winter display!
Holly
Holly brings up thoughts of Christmas trees and mistletoe because of its bright red color that it can add to your garden in the winter. It's especially eye-catching following a recent snowfall. Holly bushes prefer well-drained, slightly acidic soil and do best in full sun. Having said that, holly is a pretty tough plant that can be ignored for a bit and can flourish in less-than-perfect conditions.
Brussel Sprouts
You're in for a treat if you've never witnessed a Brussel sprout plant growing. It looks like something straight out of a science fiction movie! Not to mention, you'll have a terribly-tasty vegetable to enjoy all spring long. Brussel sprouts wrapped in bacon, anyone?
Crocus
You may recognize the crocus as one of the first indicators of spring following a long winter. These purple, yellow and white bulbs prefer full sun or partial shade and appear in late winter or early spring. For all you foodies out there, consider planting Crocus sativus, or autumn crocus-it's a crocus variety that creates saffron!
Suggestions for Winter Gardening Success
Remember that while you can daydream of an amazing winter garden all you want, when it comes to successfully growing one, you'll want to ensure that you're choosing plants suitable to your USDA growing zone. According to your area's local climate and temperature, some winter plants will not grow as well as others.
To assist your winter garden reach its full potential, protect your plants from getting hit with winter's worst. Ensure that you're diligent about weeding, applying lots of mulch and keeping an eye out for pests. Making the most of row covers, portable cold frames and covering crops when the frost rolls in is recommended too.
Have a questions or concern? Nick, Cindy & Nicholas Davis with RE/MAX Premier Group are here to assist you with all your Real Estate Needs. We are always available at 813-300-7116 to answer your questions or you can simply click here and we will be in touch with you shortly.

Ways Our Family Can Help Your Family